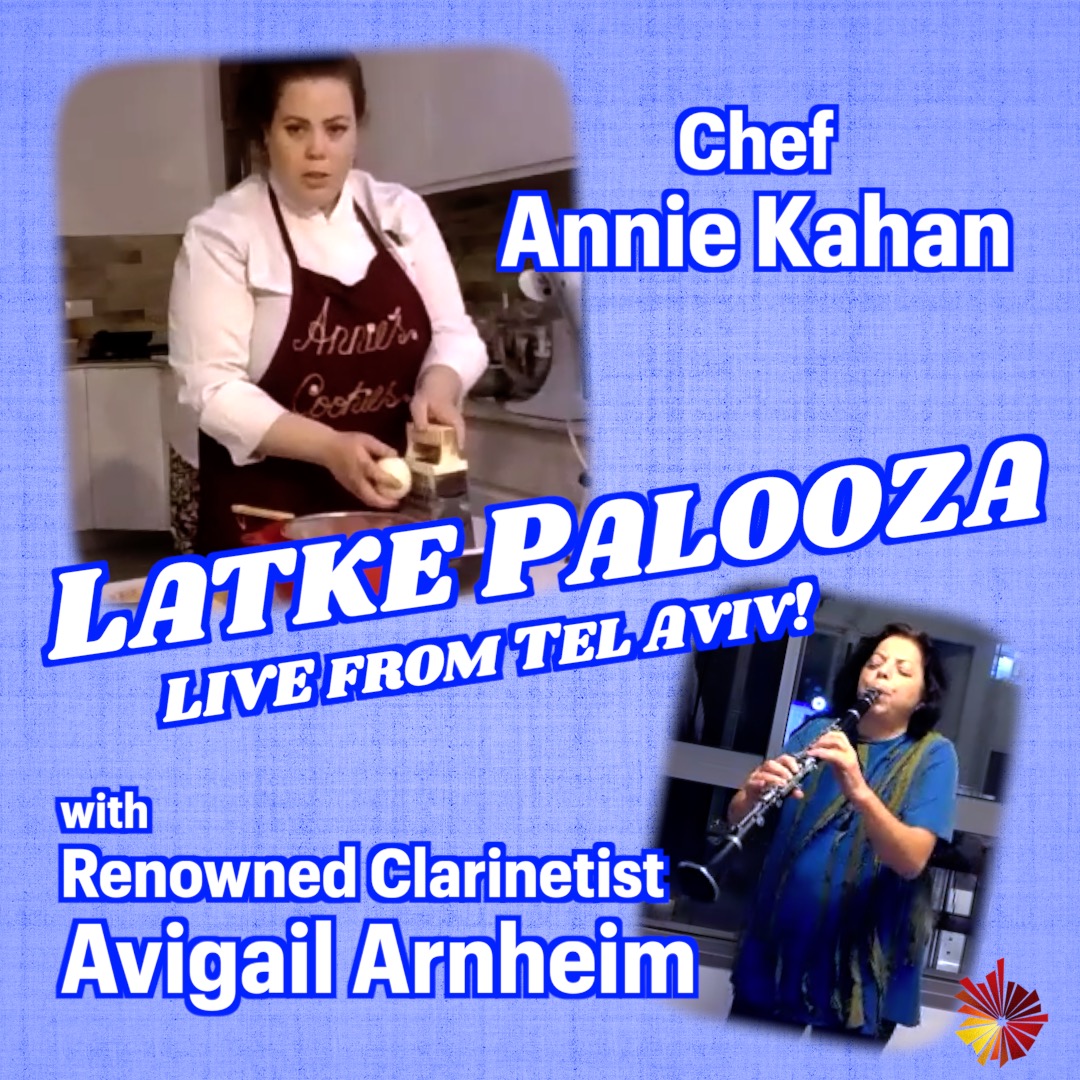 RECOMMENDED
$15 (min. $1)
Latke Palooza!
Learn Chef Annie Kahan's secret recipes for latkes and sufganiyot, live from Tel Aviv, accompanied by renowned clarinetist Avigail Arnheim!
Sun Nov 21 2021
1:00 pm EDT
VIRTUAL VENUE: Bubbe's House
ABOUT THE
Chef Annie Kahan tunes in live from Tel Aviv to show us her secret recipe for latkes and sufganiyot (donuts) while renowned clarinetist Avigail Arnheim regales us with her clarinet! Sign up now to get your shopping list! Food, music? What more do we need?!
ABOUT THE ARTIST
Annie Kahan is an Israeli chef who specializes in couture pastries. Her education includes the famous school of pastry chef and chocolatier Estella M. Belfer. She is the Owner and founder of Doron & Annie, a company specializing in concept dinners, along with Doron Levy, prior chef at the well-known Dinings restaurant in Tel-Aviv and the Gramercy Tavern in NYC. Annie is also the owner and founder of Annie's Cookies, noted for its pastries and special treats, and sweet and savory holiday gifts and packages.
Avigail Arnheim studied clarinet in Tel Aviv and Munich. As a professional musician she has played with the Israel Philharmonic Orchestra, Israel Chamber Orchestra, and several chamber ensembles. She can be heard on numerous recordings including: French Impressions, featuring violinist Joshua Bell, Israel at 50: a celebration with music of Tsipp Fleischer,  and Serenity Lost with Yinam Leef and the Meitar Ensemble. She has been the director of Felicja Blumental Music center association in Tel Aviv since 2001.