MEET THE ARTIST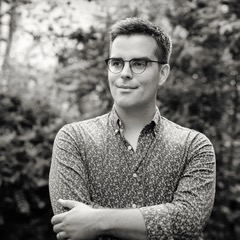 Luke Frazier
Growing up in West Virginia and spending most of his career in New York City and Washington DC-Luke knows the breadth of audiences that can have their lives changed by music of all kinds. Luke, a classically trained pianist and conductor, spends every day focusing not only on musical excellence but also about using music as a tool to connect people from all walks of life. Gone are the days of programming and conducting in a vacuum – The arts today are about the communities we serve and the patrons both existing ones and those yet to be reached.This philosophy has led Luke to be a pioneer in how, where and what orchestras perform. This commitment to innovation led Luke to start The American Pops Orchestra in 2015 to serve as an artistic model of this thinking. In Luke's shows, it's not uncommon to hear pop singers, classical musicians and television stars all in the same program. Each concert, whether it be with his own APO or another orchestra around the country, is curated an an opportunity to highlight music, particularly American Popular Music. This music that we've created together can be used as a rallying point in our collective lives. Luke crafts each concert with a dramatic arc featuring both innovative and classic arrangements to keep both audiences and artists engaged at every measure.
Luke is lucky to call many of the world's most acclaimed artists, friends and collaborators. These friendships include Renée Fleming, Brian Stokes Mitchell, Patti Labelle, Kelli O'Hara, Juanes, Wynton Marsalis, Rita Moreno, Morgan James, Joshua Bell and so many more have led to concerts all over the country both in iconic venues and to millions of viewers on television.Passionately committed to the next generation of musicians, Luke spends a significant amount of time and resources with all levels of aspiring musicians. Each year APO hosts a free national collegiate vocal competition, hosts instrumental and vocal masterclasses for collegiate musicians, creates original children's programming of the highest caliber and spends two weeks visiting schools free of charge in some of the poorest regions of our country. Luke believes in the power of music to open new doors for children – In fact, it was an elementary school gymnasium performance which included live musicians that inspired his own career.
To get to know more about Luke or The American Pops Orchestra and what there up to check out: @fraziersedge and www.LukeFrazierMusic.com or @theamericanpops and www.theamericanpops.org.