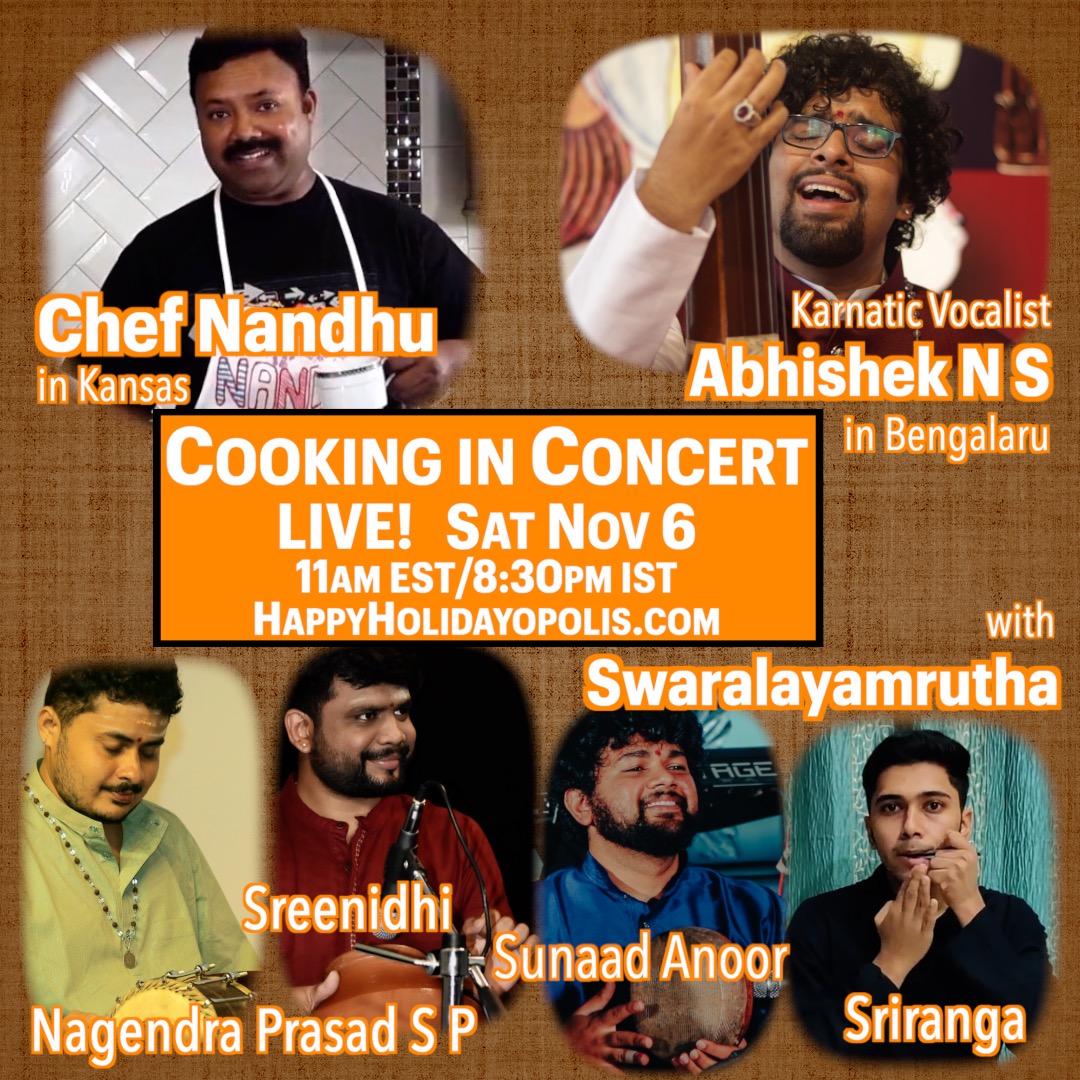 RECOMMENDED
$15.00 (min. 1.00)
DIWALI DELIGHTS
Cook along with chef Nandhu Radhakrishnan, accompanied by Karnatic vocalist Abhishek N S and friends, live from Bengaluru, India!
Sat Nov 6 2021
11:00 am EDT
VIRTUAL VENUE: Desi Kitchen
ABOUT THE
Celebrate Diwali with Nandhu while he shows us how to make some of his favorite traditional Diwali dishes, accompanied by Karnatic musicians Abhishek N S and friends who will be tuning in live from Bengaluru, India! Food, music? What more do we need?! Sign up now to get your shopping list, or feel free to grab a cup of tea, follow along and enjoy the company. (Can't make the live show? You'll be able to watch the video later!)
ABOUT THE ARTIST
Nandhu Radhakrishnan is a host for Iniya TV, a YouTube infotainment channel and explores the science behind his recipes. He considers cooking as a stress buster! Cooking is a science and an art. "What's Cooking?" hosts some of Nandhu Radhakishnan's recipes and invites friends who share his passion. Associate professor in speech-language pathology by profession, Nandhu is a hobby-chef who learned the basics of the traditional Indian style of cooking from his mother and fancy, party-style cooking from his father. Knowing your ingredients is science and planning the blend of these ingredients is an art. Watch the magic happen and the results of it!
Abhishek N S, Disciple of Vidwan S Shankar, is a Carnatic musician, music educator, and All-India Radio artist. He has been learning since he was 6 years of age, and also has received training in Western music from the Norwegian Academy of Music (one of Europe's biggest conservatories), to further improve his vocal skills and dynamics.
Abhishek has been a performing artist for over 10 years, and has performed at various prestigious locations, including All India Radio (Bangalore), Tirumala Tirupati Devasthanam, Indian Institute of World Culture, and more. In addition to singing for films in Kannada Language and lending his voice to ads, he has also composed and sung for several special dance productions by renowned Bharatanatyam artists.
Abhishek is a music educator at SaPa, where he trains students to grow into performers. He is also involved in teacher training and has been part of music conferences by the Norwegian Academy of Music – SaPa's partner institute He is also the Founder and Director of his school of music – Shankara Academy of Fine Arts and has been successfully running it for the past 3 years, training his students to carry on the legacy of his Guru, Vidwan| S Shankar. Abhishek is an Electronics and Communications engineer by qualification, and worked at an info-tech company before he decided to pursue music full-time.