CONHEÇA O ARTISTA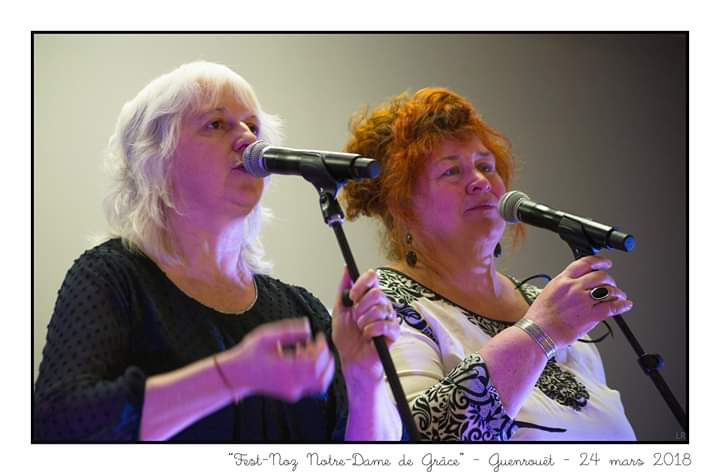 Sylvie Guiner e Brigitte Kloareg
Sylvie Guiner is a singer from Bro Gwened, an area of Brittany with a distinctive dialect of Breton and where traditional melodies are also quite different from the other areas where Breton is spoken in the west and in the north. Although not a speaker of the language, Sylvie nurtures her connection with her Breton identity through songs which she delivers with great musicality and sensitivity.
Brigitte and Sylvie have been singing for a number of years in local sessions which they organize as well as intimate settings for concerts and dance.

Brigitte Kloareg is a powerful traditional singer from Brittany who spent many years in the British Isles. A fluent Welsh-speaker, she has sung with various Welsh bands at the fore-front of the traditional music revival in Wales where she lived for 20 years. She travelled extensively through Scotland and Ireland listening to singers as well as picking up a trophy for best solo female singer in the Highlands of Scotland at the Glasgow Folk Festival.
Now back in her native Brittany, she is active on the music scene both as a performer (concerts, dances, singing sessions…) and as a voice and dance teacher in music schools as well as at the University of Western Brittany where she teaches a course on oral traditions in the English language.
She is a versatile performer who works solo or in small duos or trios with other singers, musicians and storytellers. She has an extensive repertoire of songs learned from singers in the Celtic countries. She performs in Breton, French, Welsh and English with occasional fo
occasional forays in romance lesser-used languages such as Catalan, Piemontese, Occitan…
She also sets and performs contemporary poetry from the Caribbean to her own music.