MEET THE ARTIST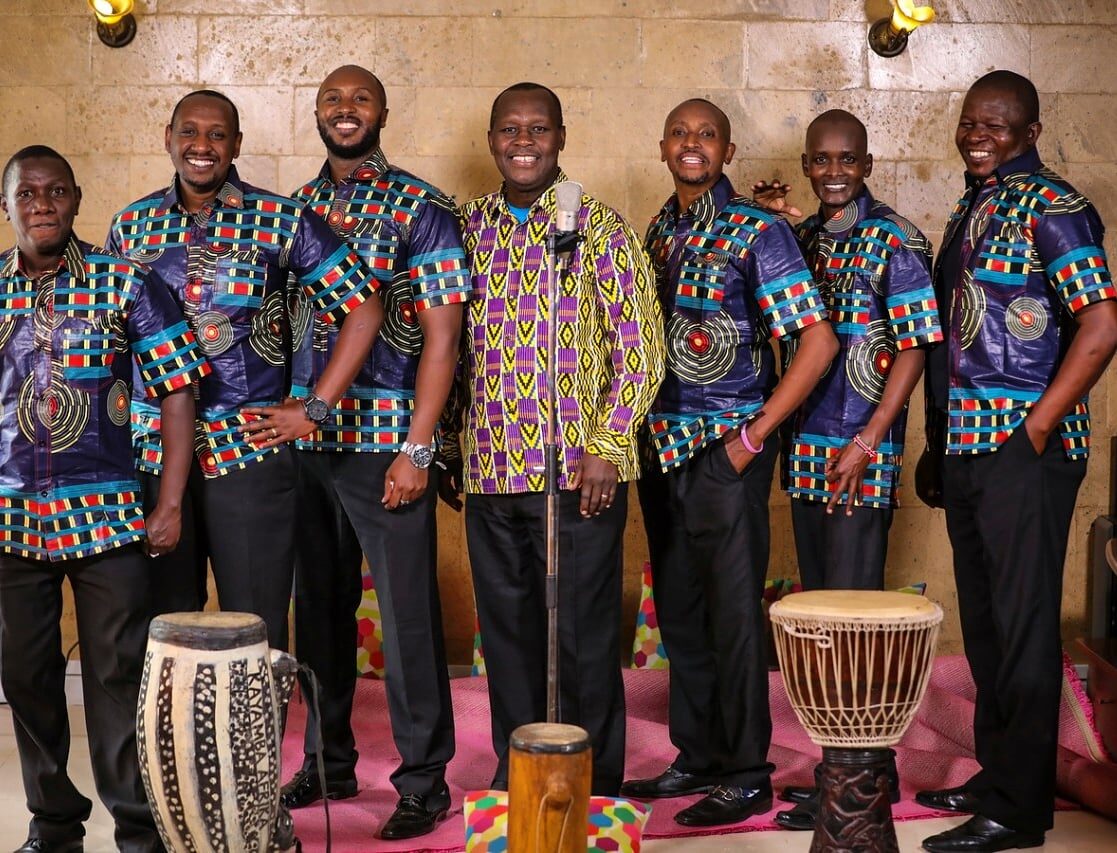 Kayamba Africa
Facebook: @KAYAMBA-AFRICA
Youtube: @KayambaAfricaNairobi
Twitter: @kayambaafrica
---
In their twelve years together, Kayamba Africa has established itself not only as the most in-demand vocal group in Kenya, but also as one of the most successful independent acts in Africa. In addition to substantial CD sales of its own independent releases (50,000copies sold and counting), the group has toured extensively throughout Kenya and abroad, building its financial base with a steady list of festivals and private shows that eventually led to sold-out tours of theaters halls and small arenas.
Kayamba Africa began at Kenyatta University with Juma Odemba, who sings baritone and lead vocals, Moses Ekirapa, Argwings Kodhek, while were attending a wedding in 1998. Shortly after forming, the group auditioned for a local entertainment star search, which helped jump-start the group's performance and appearance schedule. Tenor, Simon Ngigi, and bass, Antony Ondeng, and Patrick Ondondo joined soon after.
Together the sextet reached national prominence with appearances on KBC and in Drum Magazine. They shared the stage with a number of recognizable performers including Papa Wemba, Koffi Olomide, among others, From the group's onset, the members, with a small team of driven supporters, have overseen and operated the business of Kayamba Africa, growing a small business of a few thousand shillings into what is today a limited liability company.
The group had to overcome a number of obstacles, including an unspoken apprehension to a cappella acts by individuals in the music industry and having a name that was anything but catchy (A reed instrument) and constant infighting for leadership and musical directions leading in some members leaving. Still, the group persevered, recording and manufacturing its own records and selling them to a growing legion of fans through live shows and in shops, in the lobby of the theaters where they performed, and through a growing national distribution. One could say they gained their current consumer popularity the old-fashioned way; they earned it.
At present, Kayamba Africa just released their fourth album, entitled "Dhahabu" on the heels of their previous projects (Kayamba Africa Vol 1 [DVD], Simba, Sherehe, Kayamba Africa. The recordings contain indelible voices and percussion and instrumentation. This outstanding blend has resulted in multiple Contemporary traditional music, Kora Awards nominations, considerable national press, and has landed their music on every continent.