MEET THE ARTIST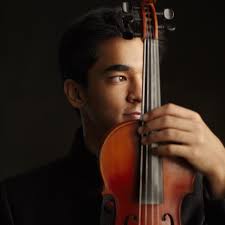 Ambi Subramaniam
Ambi Subramaniam is a violinist, composer, and educator. He started performing on stage when he was six years old and was described as the "new king of Indian classical violin" by the Times of India. He was also described as "India's 24-year-old Itzhak Perlman'"by the Ozy Magazine.
Ambi is the Associate Dean of the Subramaniam Academy of Performing Arts (SaPa), an institute that trains musically inclined children to become professional performers. In 2014, Ambi started the SaPa in Schools program with his sister, Bindu Subramaniam. SaPa in Schools is an initiative to integrate music into the mainstream academic curriculum, and works with 25,000 children in India as of 2018.
Ambi's awards include the Ritz Icon of the Year Award, the Rotary Youth Award, two Global Indian Music Awards (GiMAs), and one BiMA. He was the three-time winner of the Philomena Thumbochetty Award for Best Western Classical Violinist, and received a golden violin from Sri Jayendra Saraswati when he was 18 years old.
Ambi is a youth delegate at the United Nations for the Sri Chinmoy Peace Meditation group.