MEET THE ARTIST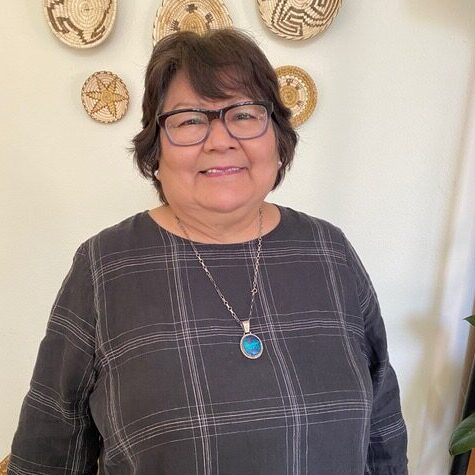 Geri Keams, Dineh
GERI KEAMS is a Navajo (Dineh) Indian storyteller, actress, and author born and raised in the Painted Desert of Arizona. Her mother's clan is the Streak-of-Black-Forest (Tsi'nii jinnie), She is born for the Many Goat Clan (Tl'iizi' Ll'annii).
Geri grew up without television, living on the Navajo reservation with her nine brothers and sisters. She attended boarding school and was raised by her grandmother, a rugweaver and storyteller.  Geri's grandmother inspired her to remember the stories and culture of her people.
Geri graduated from the University of Arizona with a degree in Drama and Film. She continued her studies in New York City and toured with the Native American Theatre Ensemble (NATE) and co-wrote "Nahaaszan", a stylized production about the Navajo origin story.
Geri is also an accomplished actress and co-starred with Clint Eastwood in the classic western, "The Outlaw Josey Wales".
She served as a cultural consultant for Disney's Pocahontas and has co-starred in many television productions such as the Disney Channel's, "Buffalo Dreams", Showtime, "Edge of America" and "Comanche Moon" for CBS and Hallmark Entertainment.  More recently, she  has a recurring role as Rayanne in NBC-Peacock's "Rutherford Falls".
Geri has toured the world with her children's show, "NATIVE LEGENDS COME ALIVE". She has been featured at The John F. Kennedy Center for the Performing Arts and The Smithsonian Institute in Washington D.C., The National Storytelling Festival in Jonesborough, Tennessee, and the Los Angeles Music Center.
Geri is the author of children's books, "Grandmother Spider Brings The Sun" and "Snail Girl Brings Water", stories based on Native American legends. Her books have been re-printed in McGraw Hill's 3rd Grade Reader and Pierson's International Textbooks.
Geri believes in promoting an accurate and authentic view of her people and works at making sure that each project reflects the true spirit and voice of her people.
Geri makes her home in Pasadena, California with her husband Don.