DIWALIWOOD

LAKSHMI TEMPLE is dedicated to the Goddess Lakshmi, goddess of wealth, fortune, and prosperity. She holds the promise of material fulfillment and contentment and is often depicted with Gold coins falling from one hand while the other hand is holding a lotus and blessing everyone.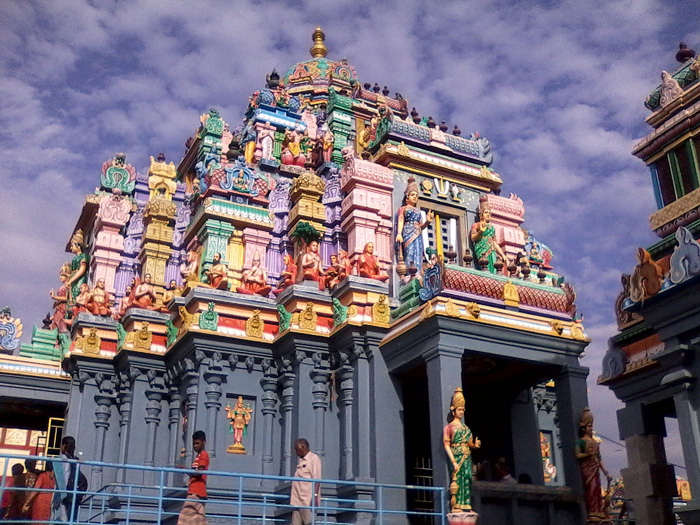 Beautiful goddess seated on a chariot,
Delighted by songs on lustful elephants,
Bedecked with lotuses, pearls and gems,
Lustrous as fire, radiant as gold,
Resplendent as the sun, calm as the moon,
Mistress of cows and horses —
Take away poverty and misfortune
Bring joy, riches, harvest and children.
—anonymous
ABOUT DIWALI
Deepavali or Diwali, the "Festival of Lights" is one of the most enchanting and beautiful festivals that is celebrated by the Hindus along with Buddhists, Jains and Sikhs in their own respective ways all around the world. It commemorates the beginning of the Hindu New Year and there is an unmistakable element of fun, laughter, excitement, reunion, and heartfelt joy that is associated with the celebration.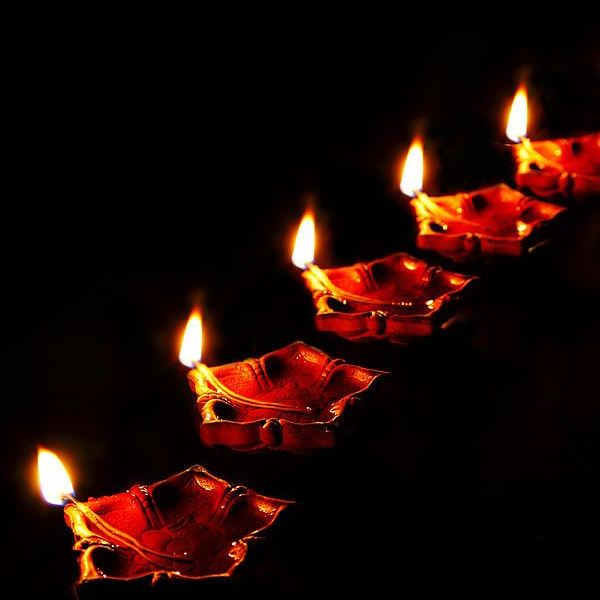 Diwali originated in rural India as primarily a harvest festival, a way to give thanks for the earth's bounty. Diwali is observed in many countries outside of India, Guyana and Trinidad and the Hindu community joyfully anticipates the coming of the festival.
On the auspicious night of Diwali, the inside and outside of homes are decorated with diyas (earthen/clay lamps) or candles, and the displays are designed to capture the attention of all.
The Festival of Lights is celebrated to honor Rama-chandra, the seventh avatar (incarnation) of the god Vishnu. It is believed that on this day Rama returned to his people after 14 years of exile during which he fought and won a battle against the demons and the demon king, Ravana. People lit their houses to celebrate his victory over evil (light over darkness). The goddess of happiness and good fortune, Lakshmi, also figures into the celebration. It is believed that she roams the Earth on this day and enters every house that is pure, clean, and bright.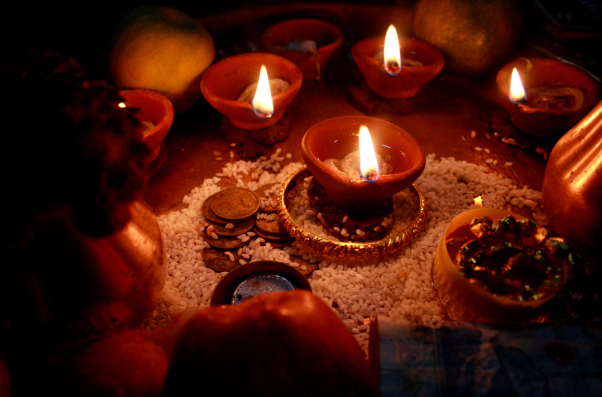 Draped in red saree, bedecked with gold ornaments, seated on a lotus, pot in hand, flanked by white elephants, the image of Lakshmi adorns most Hindu homes and business establishments. She is described as restless, whimsical yet maternal, with her arms raised to bless and to grant. 
Traditionally, each day of Diwali has a different focus.
The first day is usually a shopping day, especially for gold or silver.

The second day is used to decorate the home.

The third day is the main day of the festival with fireworks at night and a feast with family and friends.

On the fourth day spouses exchange gifts.

On the fifth day brothers and sisters spend time together.
DIWALI GIFT
This coloring image is downloadable and yours to keep! Happy Diwali from Holidayopolis!