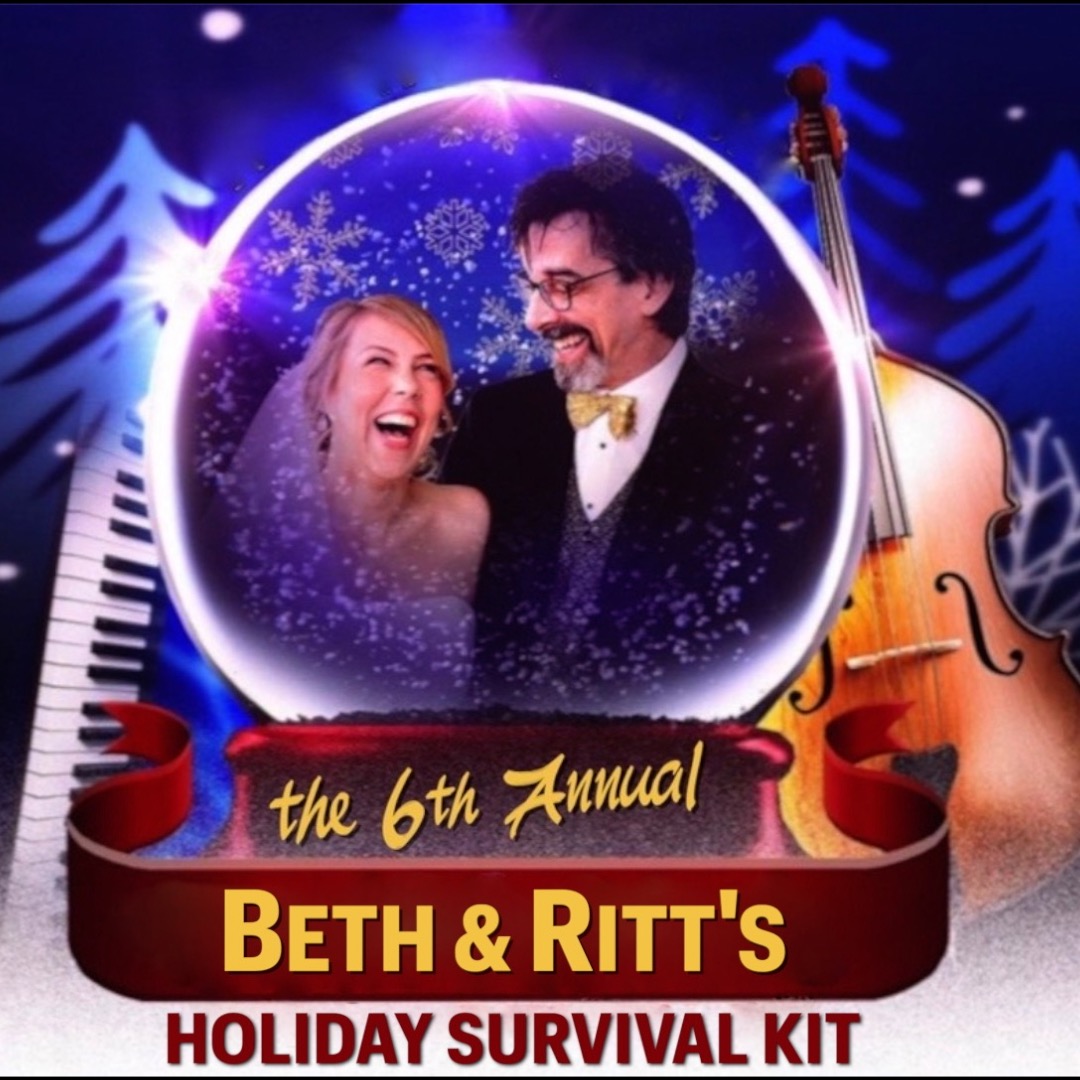 PRICE
$30
Beth & Ritt's Holiday Survival Kit
Award-winning songwriters Beth Falcone and Ritt Henn perform original and originally arranged songs of seasonal celebration at the Triad in NYC (Livestream also available)
Sun Dec 19 2021
2:30 pm EDT
Triad Theater
158 West 72nd Street
New York, New York 10023
ABOUT THE
What do Diwali, Hanukkah, Christmas, Kwaanza, and Winter Solstice have in common? To find out, come and walk a mile in someone else's music. It's high quality duct tape and organic beef jerky for the soul!
Award-winning songwriters Beth Falcone and Ritt Henn return for their 6th Annual Beth & Ritt's Holiday Survival Kit. They serve up a bevy of original and originally-arranged celebratory songs from around the globe to see you safely through the season. Beth's "catchy melodies and smart lyrics" (Variety) and Ritt's "funkier Cole Porter" songs (LA Weekly) soar with her "fiery piano playing" (Chicago Sun Times) and his "cool cat" bass (Time Out NY). Met Opera and Broadway performer Roosevelt André Credit, international singer Xiaoqing Zhang, and The Snow Angels: LaDonna Burns and Christine de Frece!
Approx Running Time: 90 Minutes
Genre: Jazz, Folk, Traditional, Original and Originally Arranged Holiday Music
Please Note: all patrons must show proof of COVID-19 vaccination upon arrival to gain admittance to the theater. Lack of proof will result in denial of entry with no refund. There is no two-drink minimum, so patrons wil stay masked at all times during the performance.
Additional information: This show will be livestreamed for fans outside the New York City area. For information on how to purchase a livestream ticket, click here: Beth & Ritt's Holiday Survival Kit Live-Stream ($10)
We look forward to seeing you all in 3D in New York, and in 2D via the Livestream!
ABOUT THE ARTIST
Ritt Henn plays bass, writes songs, and lives in New York City. He's toured the U.S. and Europe, released four CDs of original music and a DVD of his short films (available at iTunes), produced over 200 episodes of ManBassBoxTV, garnered Bistro and MAC Awards, worked Off-Broadway as a bassist and band leader, and accompanied boatloads of cabaret singers, always as a bassist, sometimes as a musical director, ukulele plucker, and artistic whistler. He's also performed with Chuck Berry, toured with Kathleen Turner, and played "Stand By Me" with Ben E. King in Las Vegas. You can see and hear more at ManBassBoxTV.com.
Beth Falcone is a New York based free-lance musician: composer/lyricist, pianist, conductor and singing-voice specialist. Most recent credits include back up singing with rock artist Bob Malone,  and assistant Musical Director for Blue Roses at the York Theatre in NYC. Her musical, "Wanda's World," was produced off-Broadway at the 45th St. Theater (Amas, in association with Terry Schnuck) received two Lortel Award nominations, including best musical, a Drama Desk Award nomination for best book, and she is a Kleban prize winner for Most Promising Lyricist in American Musical Theatre. The show was released on Broadway Records in December of 2019 and has been licensed by Theatrical Rights Worldwide. For more information, visit: WANDASWORLDMUSICAL.com.
Fun fact: Beth & Ritt are happy Co-founders of Holidayopolis along with good friend and colleague Roosevelt Credit!