CHRISTMAS VILLAGE

Welcome to Fezziwig's!
Please feel free to enjoy our fireplace until event time.

ABOUT FEZZIWIGS
Established in December 1843, Fezziwigs Nog & Grog House is located in Holidayopolis's historic Christmas Village in the heart of Tannenbaum Plaza. Our name comes from the classic nog originally made by old Fezziwig himself… still being served over 150 years later! Who can go wrong with a cup a grog right outta the ole stein? After a few pints, you may just feel ole Fezziwig's jovial spirit creeping into your bloodstream!
While we are famous for our signature cake, cold roast, cold boil, mince pies and plenty of beer, Fezziwig's Nog & Grog House has expanded its menu over the years and boasts an enormous selection of fine Christmas dining from around the world! Check out the eclectic menu for yourself; take one of our unique cooking classes, or just sit by the fire with a warm cup of cocoa. At Fezziwigs there's something for everyone!
While we can't shake hands with every person in the room the way old Fezziwig did (social, distancing, ya know) we love serving up the ole ways with a dose of kindness and a spoonful of imagination to give you a comfortable, oily, rich, fat, jovial experience, just like Fezziwig himself!
Once inside Holidayopolis, everything here is free! Why? To quote old Fezziwig: "It's not just for money alone that one spends a lifetime building up a business…. It's to preserve a way of life that one knew and loved."
MEET OUR CHEF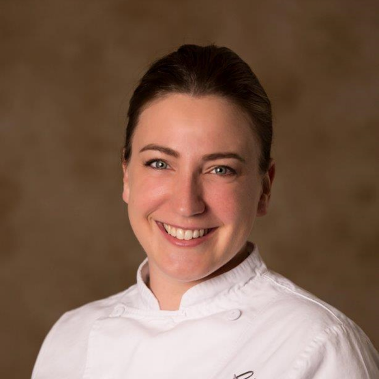 Chef Cheryl Burger is a culinarian with over 20 years of experience in corporate food and catering. She has enjoyed a varied career working in high-volume production kitchens and bistro cafes alike, eventually spending far too much time pouring over spreadsheets and decoding corporate jargon. After being set free from her career this spring due to Covid 19, Cheryl ran away from home with her camper and spent the summer and fall volunteering in VT, cooking locally sourced foods over fire pits with friends, napping by the West River, and making kimchi. In her free time, Cheryl is passionate about touching hearts through food, writing her own cookbook, watching Matlock with her Dad, and spending as much time in nature as she can possibly stand.